Review these Items when preparing your visit
Facilities and Amenities Available
Please note: The Harvard Forest welcomes individuals with disabilities to participate in its programs and activities. If you anticipate needing any type of accommodation or have questions about the physical access provided, please contact us at  hfvisit@fas.harvard.edu in advance of your participation or visit.  
Meeting Spaces | Dining Space | Food Service | Guided Tours & Walking Trails | Overnight Accommodations
Meeting Spaces
Available for groups of 5 - 100 people
All rooms pictured below have wireless connectivity, projection and computer hookup.
Several small "break out" spaces with wireless connectivity are available for groups up to 10 people
Accessible parking is at the rear of the building, and the accessible entrance is equipped with an automatic door opener. All meeting spaces, the dining space, and restroom facilities are located on an accessible route on the first floor of the building.
Meeting Space Overview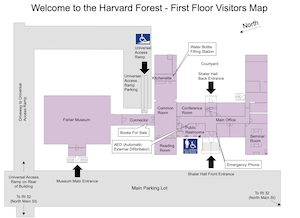 Fisher Museum - suitable for 100 people in lecture seating or 45 in conference room seating with tables
Shaler Hall Seminar Room - suitable for 30 people
Shaler Hall Conference Room - suitable for 12 people - video conferencing available.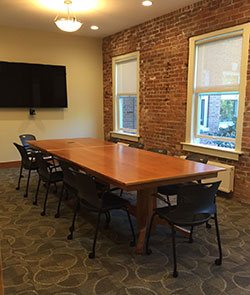 Dining space
Shaler Hall Common Room is a multi-purpose space that can be arranged to accommodate 5 to 40 people at a sit down meal or up to 100 folks standing or 125 lecture style
 
Food Service
Forest staff can provide coffee and tea service to visiting groups year-round during business hours. For meals and off-hours coffee service, our staff can also recommend a variety of in-house caterers and off-site restaurants that can handle most budgets and various sized groups throughout the year. 
Guided Tours and Walking Trails
Guided tours of the Fisher Museum, natural history trails, and research sites may be arranged in advance with staff educators and researchers. Walking trails with interpretive natural history signs are also available 365 days a year for unguided exploration.
Overnight Accommodations
Available for up to 50 people in singles, doubles and triple rooms
All Units

have kitchens stocked with basic kitchen ware (pots, pans, plates, cups and utensils) and appliances (fridge/freezer, oven/stove, coffee maker and microwave)
Sheets, pillows, blankets, towels and soap bars are provided
Typically guests are expected to make their own beds and strip them prior to departure. Guests also must remove all perishable and non-perishable food items
Fisher House - max. occupancy is 23 including 14 bedrooms with 6.5 bathrooms. Not available last week in May through 3rd week in August

Raup House - max. occupancy is 16 in 6 bedrooms with 3 full and 1 half baths

Community House

South dorm - max. occupancy of 6 in 4 bedrooms with 1 full bath
Middle dorm - max. occupancy of 4 in 2 bedrooms with 1 full bath