A true understanding of the Vineyard begins with the island's past: how people, farm animals, and nature shaped it centuries ago.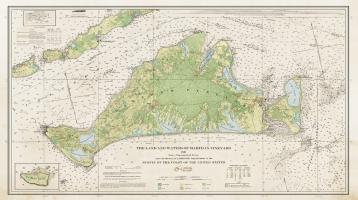 To develop this new version of Henry Laurens Whiting's map of the Vineyard—the product of 14 years of survey in the mid-19th century—a Harvard Forest design team (David Foster and Jenny (Meskauskas) Hobson) began with Whiting's beautifully engraved chart and added rich color, wayfinding elements, and more.
Purchase the full-size map and pamphlet by phone via the Polly Hill Arboretum (call 508-693-9426), or in person on Island at the Polly Hill Visitor Center, Bunch of Grapes Bookstore, Granary Gallery, or the Martha's Vineyard Museum.
All proceeds from this map project benefit the new research fund at the Polly Hill Arboretum to support the development of a modern flora for Martha's Vineyard and research in plant conservation and forest ecology.
The key to today's landscape truly lies in the past. The interactive map viewer, created by Brian Hall at the Harvard Forest, allows a close examination of the landscape of 1850 and how that gave rise to patterns today. On a mobile device, use the map to wander the Vineyard in real time, placing yourself in the present or the 19th-century landscape.
Through our research that led to the writing the book, our Harvard Forest group has compiled a large collection of digitized maps of the Vineyard from the 16th – 21st century.