Nonindustrial private forest owners in Vermont, New Hampshire, and western were surveyed to determine their attitudes toward an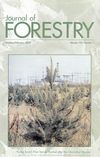 ecosystem-based approach to management. In all cases, respondents showed favorable attitudes toward: unique, small-scale ecological features like rare species and wetlands; management at spatial scales larger than the individual parcel; and ownership beyond a single generation. Even non respondents, when interviewed on the telephone, indicated attitudes sensitive to these issues. We believe future conservation of nonindustrial private forestland (NIPF) lands will be successful if professionals design management alternatives sensitive to these attitudes and policy makers craft appealing and effective programs that are perceived as relevant. 
Danielo L. Belin, Kittredge, D.B., Stevens, T.H., Dennis, D.C., Schweik, C.M and Morzuch, B.J. 2005. Assessing Private Forest Owner Attitudes Toward Ecosystem-Based Management.  Journal of Forestry. 103: No. 1. pp 28-33.