Since the release of the scientific report "Wildlands and Woodlands: A Vision for the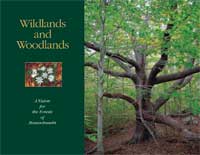 Forests of Massachusetts" calling for a bold new land protection effort to stave-off accelerating forest fragmentation in Massachusetts, many organizations and persons from the private forester to the public servant have expressed interest and/or endorsement of the vision. Below are some examples of efforts already underway:
Visit by the Save the Redwood League to discuss the W+W plan and mutual interests in protecting forest lands through public-private partnerships.
" Expanding the regional application of Wildlands and Woodlands by holding a forum for students and faculty at Yale University School of Forestry and giving presentations at the Highstead Arboretum in Redding, CT.
Planning a visit by the Massachusetts Joint (Senate and House) Legislative Committee on Natural Resources to provide an overview of Wildlands and Woodlands and related issues in forest research.
Continue to meet on a bi-monthly basis with a growing group of state agencies, conservation organizations, and private foundations to discuss the implementation of W+W. The current focus centers on three major topics: Funding, Policy (state and local regulations that affect land use planning and forest conservation), and Outreach.
Jim Levitt and the Program in Conservation Innovation has applied for funding to host a workshop early in '06 of national experts in land protection and conservation funding in order to devise strategies for funding the W+W vision.
In the most recent newsletter of the Massachusetts Chapter of The Nature Conservancy, Director Wayne Klockner discusses the W+W Vision "With the publication of Wildlands and Woodlands, A Vision for the Forests of Massachusetts earlier this year, David Foster and his colleagues from Harvard Forest propose a strategy for forest conservation that could be a rallying point for us all." Click here for the complete article.