Kate has been actively leading her students in participating in a hands-on long term field ecology project monitoring the Hemlock Woolly Adelgid in a woodland near their school. This work is part of Harvard Forest's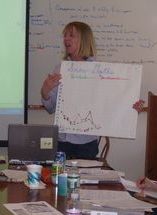 Schoolyard Ecology program, Woolly Bully, which connects students with Harvard Forest Ecologist David Orwig's studies.
Kate has also worked closely with Harvard Forest Ecologist Aaron Ellison as a field research assistant. We are thrilled that she is being recognized for her amazing work in connecting students with the natural world using authentic scientific studies.
The Formal Environmental Educator Award is designed to recognize a public or private school classroom teacher who:
promotes individual and societal environmental responsibility;
encourages students to make informed decisions about environmental issues;
inspires student involvement and action through individual or group projects to effect positive environmental change at school or within the local community;
links student learning to the appropriate state or national science benchmarks, curriculum frameworks, or standards.
The award ceremony will be held at the NEEEA conference in Hancock, New Hampshire on October 5th.