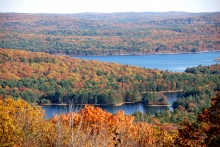 A team of researchers from the Harvard Forest, Family Forest Research Center, and Duke University have been awarded an $880,000 grant from the National Science Foundation to study how climate change and forest pests influence the ways landowners make decisions about their woods.
Collaborators David Kittredge, Marla Lindsay, Mark Borsuk, Brett Butler, and Emily Silver-Huff plan to survey thousands of landowners throughout New England to better understand how their forest management decisions are affected by climate-induced policies like carbon credits and wood biomass markets, as well as pest-induced economic opportunities like harvesting trees and utilizing insect-damaged wood.
Harvard Forest senior ecologists Jonathan Thompson and David Orwig will use the survey information to model the potential impacts of these decisions on the forest landscape's composition and function. The model's outputs will be integrated into decision support tools for landowners - a resource for them to use when contemplating the future of their land in the face of ongoing change.
(Photo by David Foster)