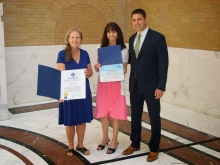 For over a decade, K-12 teachers in the Harvard Forest Schoolyard Ecology Program have been working with scientists to incorporate hands-on field science into their classrooms. This year, two of our 72 active teachers were honored at the Massachusetts State House for excellence in environmental education.
Teacher Joann Mossman was one of only six teachers in the state to win "First Honors" at the ceremony. She and her students at Overlook Middle School have been collecting data for the Forest's Buds, Leaves, and Global Warming study since 2009. Bolstered by participation in multiple data workshops at the Forest, she now works with her students to download and graph their own data, looking for patterns or trends in the length of the growing season. Along the way, they have learned about identification characteristics and seasonal changes in their own adopted trees.
Teacher Sharon McDonald of Athol High School has participated in the Forest's Our Changing Forests study since 2013. She was the only high school teacher in the central/western part of the state to receive the State award this year. 
Congratulations to Joann and Sharon, and a big thanks to all 72 of our active teachers this year for their fantastic work bringing students outdoors to learn!