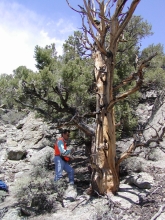 Each month, we feature research by one of Harvard Forest's Charles Bullard Fellows. This month, we're highlighting Franco Biondi, a Professor in the Mackay School of Earth Sciences and Engineering at the University of Nevada, Reno. During his 2014 Bullard Fellowship at Harvard Forest, he's completing a book on dendrochronology, in which he discusses tree-ring methods for proxy reconstructions of environmental change (including climate) while emphasizing that modern ecosystems cannot be understood from the present alone.
Biondi's research focuses on reconstructions of wildfire history to guide conservation and restoration policies, and on estimation of past droughts for water resource management in the semi-arid western US. He's also combining long tree-ring records with cellular-level processes of wood formation using automated sensors located in remote Nevada mountains to study ecosystem changes.
For Biondi, the most rewarding aspect of the Bullard Fellowship is its freedom. He explains, "My residence at Harvard Forest is finally giving me long stretches of uninterrupted time to read and write. Over the past month, I have already received invaluable advice from David Foster and Aaron Ellison on how to complete a book. I have also been able to interact with local experts in forest ecology, such as Dave Orwig, who have stimulated and expanded my approach to the topics I intend to investigate during my fellowship."
(Photo by Scotty Strachan, DendroLab, University of Nevada, Reno)