Changes to the Land, published by the Harvard Forest and the Smithsonian Institution in December 2013, is an acre-by-acre analysis of the risks and opportunities of 4 plausible land-use futures for Massachusetts.
Over the next several years, with support from the National Science Foundation, the Changes to the Land team will expand the project to the 5 remaining New England states. To learn more about this expanded project, please visit the Scenarios Services and Society website (www.s3rcn.org) .  This continued work is led by the Science Policy Exchange and the Harvard Forest's Science & Policy Integration Project.
Multimedia

Video produced by CrossCurrent Communications.

Images & Key Figures
(click image to download high-res)
Maps from the Changes to the Land report show consequences of four land-use scenarios in 2060: Recent Trends, Regional Self Reliance, Opportunistic Growth, and Forests as Infrastructure. Maps by O2 Planning + Design.

The study's Forests as Infrastructure landscape scenario maps a future in which policies, markets, state and local planning, and incentives focus on increasing the commonwealth's "living infrastructure," with more targeted conservation, smart growth development, and improvement forestry. This scenario scored best for 7 out of 9 nature-based benefits to the commonwealth.  In the full report, town insets like this one help to visualize landscape change.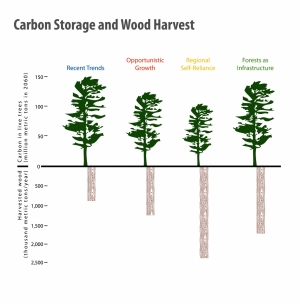 Each landscape scenario in the Changes to the Land report harvests a different amount of wood using a range of forestry practices. The Forests as Infrastructure scenario shows that it is possible to harvest twice as much wood while maintaining nearly the same amount of carbon stored in living trees, due to the widespread adoption of "improvement" forestry.

Results from the Changes to the Land report show how increased water runoff contributes to stormwater and flooding risks across the 4 land-use scenarios. Download the full report to view the results in context.
Lead Authors & Contact
Jonathan Thompson is a Senior Ecologist at the Harvard Forest. He is a forest landscape ecologist who studies long-term and broad-scale changes in forest ecosystems, with an emphasis on quantifying how land use - including harvest, conversion, and conservation - affects forest services and processes. Occasionally he'll sneak out and collect data in the field, but more often he relies on simulation models, remote sensing, and large databases to understand landscape dynamics.
Kathy Fallon Lambert is director of the Harvard Forest's Science and Policy Integration Project. Kathy specializes in the translation of ecosystem science for policy and conservation. At the Harvard Forest, Kathy has helped launch the Wildlands and Woodlands initiative and Future Scenarios of Landscape Change project. Previously, Kathy was the executive director of the Hubbard Brook Research Foundation (HBRF) where she helped develop the Science Links program to bridge the gap between long-term biogeochemical research and related public policy. Over the past 15 years, Kathy has served as a consultant on science communications and policy with Harvard Forest, HBRF, Biodiversity Research Institute, Dartmouth College, Conservation Law Foundation, Climate Variability and Change Working Group of the Northeast Ecosystem Research Cooperative, and the National Science Foundation LTER network. She has co-authored several dozen peer-reviewed papers and reports. Kathy holds a B.A. from Dartmouth College and an M.F.S. from the Yale School of Forestry and Environmental Studies. She is a Switzer Fellow, Leopold Schepp Scholar and recipient of the U.S. EPA Environmental Merit Award.
David Foster, director of the Harvard Forest, is an ecologist and author of Thoreau's Country – Journey through a Transformed Landscape, Forests in Time – The Environmental Consequences of 1000 years of Change in New England and Wildlands and Woodlands: A Vision for the New England Landscape. He has been a faculty member in Biology at Harvard since 1983 and Director of the Harvard Forest since 1990. David is the Principal Investigator for the Harvard Forest Long Term Ecological Research program, sponsored by the National Science Foundation and involving more than 100 scientists investigating the dynamics of New England landscape as a consequence of climate change, human activity, and natural processes. David has conducted studies in the boreal forests of Labrador, Sweden and Norway and the forests of Puerto Rico, the Yucatan, and Patagonia in addition to his primary research on landscape dynamics in New England. He serves on the boards of The Nature Conservancy, Trustees of Reservations, Choate School and Highstead Foundation. In 2010 David and colleagues developed Wildlands and Woodlands – A Vision for the New England Landscape, which lays out an ambitious plan for the protection and conservation of forest and farmland across the region.

Press
B-Roll footage (email hart3@fas.harvard.edu for HD file)
News Clips
Related Publications
Events
Upcoming events
Past events

Changes to the Land was released to the public at a press conference on December 11, 2013, at the Harvard Kennedy School of Government, with presentations by lead authors Jonathan Thompson (pictured at left), Kathy Fallon Lambert, David Foster; with additional remarks by Maeve Vallely Bartlett, Massachusetts undersecretary for environmental affairs. 
A follow-up press conference in Western Massachusetts was held December 12 at the Springfield Science Museum, with presentations by the lead authors and additional remarks by Stephanie Cooper, Massachusetts Assistant Secretary for Energy and Environmental Affairs.

(See event photos.)