Contact: Clarisse Hart, Harvard Forest Outreach Manager, hart3@fas.harvard.edu, 978-756-6157 (9a to 5p)
Photos
(click image for high-res)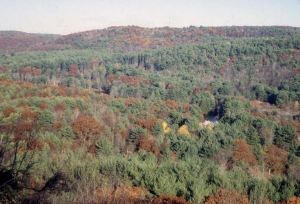 LEFT: A view of the Swift River Valley in Central Massachusetts, photographed in 1890. The image shows extensive forest clearing for agriculture. Photo courtesy of the Harvard Forest Archive.
RIGHT: The same view photographed today. Forests have made a similar recovery in many parts of the Northeastern U.S.  Photo by David Foster.
Relative abundance of pre-colonial Witness Trees and modern trees in 701 Northeast towns. (Figure 3 from the paper)
Maple and pine trees dominate this modern scene of Harvard Pond in Petersham, Massachusetts. Maple numbers have risen by more than 20% in most towns since the colonial period. Photo by John Burk.
American chestnut is one of several trees to show strong declines since pre-colonial times. An invasive fungal blight nearly extirpated chestnuts in the early 20th century, and the blight continues today. Photo by David Foster.
The historical dioramas in the Harvard Forest Fisher Museum tell the story of the region's forest loss and regrowth. Photo courtesy of the Harvard Forest.