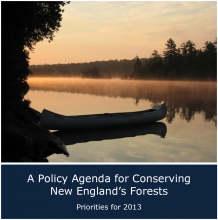 In a new report, 85 New England conservation organizations are urging federal lawmakers to help meet the region's economic challenges by investing in the region's forests.
The groups, convened over the past two years with leadership from Highstead, the Harvard Forest, and the Wildlands and Woodlands initiative, outline in their report seven policy opportunities to conserve forest resources and the environmental benefits they provide. This spring, the group also plans to reach out to additional stakeholders and the media to advocate for forest conservation as a vital economic and ecological priority for the region.
Read A Policy Agenda for Conserving New England's Forests: Priorities for 2013.