Schoolyard Ecology Program Honored
The Schoolyard Ecology program at Harvard Forest was featured on WBZ-TV in Boston and 3 of our Schoolyard Ecology teachers were honored at the State House for Excellence in Environmental Education. Tewksbury High School teacher, Elaine Senechal and her students along with Harvard Forest Ecologist John O'Keefe made an appearance on WBZ-TV with reporter Mish Michaels.
The Boston Globe covered the story of teachers being honored for Excellence in Environmental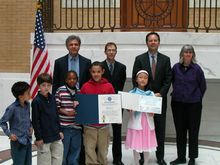 Education at State House. Teachers and students from West Springfield, Amherst and Athol were awarded. Harvard Forest participants were the first 2 awardees listed and the West Springfield award. View the story.
Tropical Coastal Research at Harvard Forest
Harvard Forest has been fortunate to be one of the world's centers for research in the ecology of tropical coastal forests. Professor Emeritus Barry Tomlinson wrote the book on mangroves (The Botany of Mangroves, published in 1986 by Cambridge University Press). Recent Bullard Fellow Elizabeth Farnsworth and Harvard Forest Senior Ecologist Aaron Ellison have collaborated on mangrove research since the mid-1980s. Just over 3 years after the Asian Tsunami raised global awareness about the importance of mangroves for coastal protection, mangroves are in the news again. Coastal areas of Myanmar (the country formerly known as Burma) from which mangroves have been cut extensively appeared to have suffered far more damage from Cyclone Nargis on May 2, 2008. Ellison was interviewed about the relationship between mangroves and coastal protection on Here and Now. Listen to the 8-minute interview.