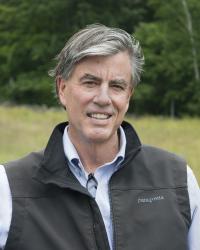 David R. Foster has been a faculty member in biology at Harvard University since 1983 and Director of the Harvard Forest, the University's 4,000-acre laboratory and classroom, since 1990. David is the Principal Investigator for the Harvard Forest Long-Term Ecological Research program, sponsored by the National Science Foundation, which engages more than 100 scientists investigating the dynamics of New England landscape as a consequence of climate change, human activity, and natural processes.
David has conducted studies in the boreal forests of Labrador, Sweden and Norway and the forests of Puerto Rico, the Yucatan, and Patagonia in addition to his primary research on landscape dynamics in New England. He serves on the boards of Highstead Foundation, The Trustees of Reservations, Edey Foundation, and the Martha's Vineyard Museum.
In 2010 David and colleagues developed Wildlands and Woodlands: A Vision for the New England Landscape, which lays out an ambitious plan for the protection and conservation of forest and farmland across the region. With many colleagues and partners that effort is expanding, as highlighted in the latest report Wildlands and Woodlands, Farmlands and Communities: Broadening the Vision for New England. On Martha's Vineyard, David and his wife Marianne Jorgensen have a house in West Tisbury, where he is an Associate of the Polly Hill Arboretum and on the board of the Edey Foundation. Learn more...
In addition to A Meeting of Land and Sea, Foster has authored a number of books: