Warming Warning is a collaborative public art project now installed on the Harvard Farm in Petersham, Mass. It was first installed on Harvard University's Science Center Plaza (1 Oxford St. Cambridge, MA) from October 22nd to December 7th, 2018.  
This visually striking educational installation is a co-creation of Harvard Forest Fellow David Buckley Borden and Harvard Forest Senior Ecologist Aaron M Ellison that combines art, environmental design, and science communication to convey global climate-change data and spur action on campus. The 9' x 10.5' x 28' sculpture is coupled with events, both on and off campus, that are geared towards local work on climate and pathways for direct action. 
Warming Warning immerses visitors in a three-dimensional visualization of ongoing climate change. On one side, the > 1.5 F change (since 1880) in global average temperature is highlighted as a white-to-red heat-gradient. The other side illustrates different future scenarios of carbon dioxide emissions. These are the paths we can take now that will lead either to a fossil fuel-free future or to an increasingly warm and uninhabitable planet.
The design represents climate change as a series of painted triangles ("deltas") constructed from standard 4x6" timbers. Sunlight channeled and diffused through 6" gaps bounces off the brightly painted sides, endowing the whole sculpture with an incredible luminosity. Shadow patterns and color-spectrum vibrancy shift as the sculpture reflects the sun's daily arc. The visual experience of the installation also changes in response to the visitor's perspective. The combined dynamics animate the work throughout the day and reward repeated visits.
Finally, Warming Warning leaves space for more triangles to be added at the end of the series. A stack of nine wood timbers make up a reflection-bench that suggests each person's role in the narrative of unfolding climate change. The primed seating element prompts each visitor to consider how they can color the future through individual and collective actions to confront climate change.
 Follow the exhibit on social media via #WarmingWarning. 
---
Join the artists for these upcoming events focused on Warming Warming and climate change action
Saturday, December 1, 6:00-9:00PM
Hemlock Hospice Documentary screening with introduction by David Buckley Borden (watch the trailer here)
Picturing Consequences, a mixed-media projection installation by Mary Lewey and Avi Paul Weinstein 
At Triple Decker Ecology exhibition
Somerville Museum
1 Westwood Rd, Somerville, MA
More info: http://www.somervillemuseum.org/ 
Thursday, December 6, 12:30-2:00PM
Environmental Art: reflection, provocation, and action, artist talk for educators with David Buckley Borden and Aaron M Ellison
Project Zero/Harvard Graduate School of Education
Longfellow Building, 4th floor
13 Appian Way, Cambridge, MA
More info http://www.pz.harvard.edu/professional-development/events-institutes/environmental-art-reflection-provocation-and-action
Monday, December 6, 2:00-4:00PM
Meet the Artists On-site, one-on one discussions with artists David Buckley Borden and Aaron M Ellison
Harvard Science Center Plaza
1 Oxford Street, Cambridge, MA
---
Past events
Wednesday, November 7, 6:30PM
Novel Ecosystem Viewfinders, artist talk with David Buckley Borden and Aaron M Ellison
Le Laboratoire, 650 East Kendall Street, Cambridge, MA
Monday, October 22, 4:00-5:30PM
Opening Event: Climate is Global, Change is Local
Harvard University Cabot Science Library
The event was geared toward Harvard students.
The program included opening remarks by the Director of the Harvard Forest, plus a presentation by the artists, and a panel of speakers from across Harvard's schools and centers, who described their local work on climate and pathways for students to get involved. The panel included presentations from:
Office for Sustainability
C-Change at the Chan School
Project Zero at the Graduate School of Education
the Climate Leaders Program for Professional Students
Harvard Libraries
the Undergraduate Resource Efficiency Program
the Harvard College Conservation Society 
---
Warming Warning in the News
The GSD News writes that "Public art installation Warming Warning engages timber, color, and shadow to stoke dialogue over climate change." Read the full story here.
The Harvard Gazette writes that this "Science Center installation aims to share data, urge action against climate change." Read the full story here.
Deborah Lee shows her photos of Warming Warning and highlights it on her Art Outdoors blog. Read her great post here.
---
Support for the Project
Warming Warning is supported by a unique partnership between the Harvard Forest, Harvard Common Spaces, and Harvard's The Office for Sustainability. The latter's support is part of the University's ambitious climate action commitment,including new science-based goals striving to be fossil fuel-free by 2050 and fossil fuel-neutral by 2026.
About the Creators
Installation Collaborators
David Buckley Borden, Jack K Byers, Mike Demaggio, Jim DeStefano P.E., Aaron M Ellison, David R Foster, Lucas Griffith, CC McGregor, Roland Meunier, Dan Pedersen/Timberpoint Builders, Matt Robinson, John Wisnewski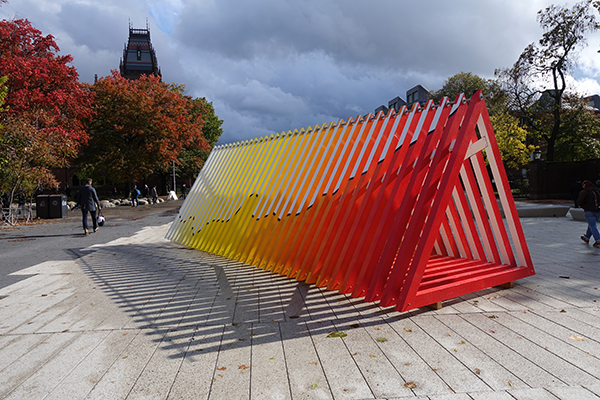 ---