New analyses of lake‐sediment pollen records from 29 sites across southern and central New England, recently published in the Journal of Biogeography, report on fourteen thousand years of changes in tree diversity since the last glaciation.
To track these changes, the research team started with pollen grains collected in sediments deep beneath lakes and ponds across the region. Paired with regional paleo-climate data (showing major shifts in temperature and precipitation), known differences in topography and soils, and the environmental niches of different tree species, they created maps of how forest diversity shifted at 1,000-year intervals in response to climate and other variables.
According to the study, until about 12,000 years ago, the post-glacial landscape had none of the variation we see across New England today. The forests were boreal - dominated by spruce and jack pine - a forest type today found mainly in northern New England and Canada.
As climate warmed over the 2,000 years that followed, the boreal forest was replaced by white pine - and then diversity diverged even further in southern New England and along coasts, to include oak and pitch pine.
With more warming and increased precipitation between 9,000 and 8,000 years ago, forest composition shifted again. Hemlock‐birch‐beech and oak‐beech forest types replaced white pine, and oaks began to dominate in southern New England -- creating a spatial pattern similar to that of the present day.
The study also analyzed phenomena that mirror ecological changes in the present day. An abrupt cooling period 5,500 years ago resulted in two dramatic species declines: 1) hemlocks lost across New England, and 2) oaks lost on Cape Cod and the Islands. This understanding of climate-induced changes in species diversity may shed light on the timing, pace, spatial pattern, and drivers of forest change today and in the future.
The study's authors represent a diverse cross-section of Harvard Forest staff, students, and affiliates: former Bullard Fellows Wyatt Oswald and Matts Lindbladh; Director David Foster; Research Assistant emeritus Elaine Doughty; GIS Specialist Brian Hall; long-time research affiliates Bryan Shuman, Ed Faison, and Barbara Hansen; and two former undergraduates from the HF Summer Research Program: Adriana Marroquin and Sarah Truebe.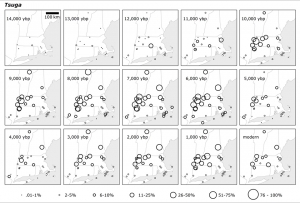 (Photo by Jenny Meskauskas)