Harvard Forest maintains 5 research towers.  
To work on or around the towers, first you must contact Meg Hastings, Director of Administration (meghastings@fas.harvard.edu) AND fill out a research application. 
All users of the walk-up towers must abide by the tower safety guidelines.  In addition, gas tanks used for tower research must follow the gas tank protocol. 
Environmental Measurement Station Eddy Flux Tower (EMS)
Begun in 1990, atmospheric measurements are taken from a 30m eddy flux tower. Primary electrical cable and telephone line extend to the site, 1.7 km into the forest from the headquarters building. Carbon dioxide and many other atmospheric trace gases (e.g. methane and other hydrocarbons, nitrogen oxides, and ozone) are measured at this site.
Hardwood Walk-Up Tower
This canopy-level walk-up tower was installed October 2014.  It is located 400 m SW of the EMS tower and 240 m SW of the NEON tower. 
Dimensions: 92' h x 7' wide x 13' long (13 stages of 7' each)
Little Prospect Hill Eddy Flux Tower
This 30m Rohn 25 G tower was used for carbon dioxide exchange measurements from May 2002 – December 2010.  The tower was installed in 2001 in a younger mixed hardwood forest type, approximately 1.2 km from the EMS.
Hemlock Walk-Up Tower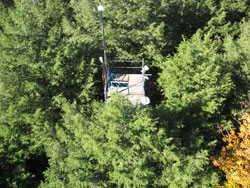 This canopy-level walk-up tower is in a mature hemlock forest approximately 0.5 km from the EMS. Carbon exchange data starting November 2000 are available for this site. Dimensions: 71.5' h x 3' wide x 5' long (11 stages of 6.5' each)
Hemlock Flux Tower
This 33 m Rohn 45GSR tower was installed in October 2013. It is located 10 m to the east of the hemlock walk-up tower. Flux measurements were started in July 2014 along with basic wind, temperature, relative humidity, a light measurements.
Barn Tower
This 36 m Rohn 65 G was installed in September 2009. It serves as the starting point of the HF field wireless network and a platform for above canopy research.