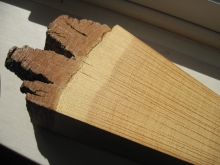 Bullard Fellow Rose-Marie Muzika, a forestry professor from the University of Missouri, has long been interested in forest change over time.
During her fellowship at Harvard Forest, she is studying the impact of insects and diseases on today's forests, as well as their legacy on forests of the past.
Her work is focused specifically on the consequences of two non-native organisms: gypsy moth and chestnut blight.
A sprouting American chestnut stump is evidence of the chestnut blight's arrival in 1920. Long-term study plots at the Forest have allowed Muzika to examine nearly a century of chestnut sprout dynamics.
Evidence of past gypsy moth outbreaks are more subtle, and include slower growth rates in trees defoliated by the gypsy moth caterpillar. Muzika uses dendrochronology (tree ring records) to determine the influence of gypsy moth defoliation ln the long-term growth of northern red oak. 
The Harvard Forest Archives are a key ingredient to Muzika's investigation. In the Archives, she explores past research records and documents that detail gypsy moth outbreaks and chestnut blight at the Harvard Forest and in surrounding forests.
She is also revisiting the physical plot locations from studies that were established by Harvard Forest scientists in the 1930s and 1940s, to identify surviving trees and track how they have they have grown over time. 
Muzika says it's the history of Harvard Forest that attracted her to the Bullard Fellowship, noting, "The careful documentation of studies conducted here provide a unique opportunity to delve into the past to provide insight to the present and the future."