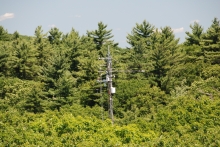 New research in Nature Climate Change, based on over 20 years of ground and air measurements at the Harvard Forest, gives new insight into the crucial climate benefits that eastern forests provide. As warming has brought earlier springs and later autumns to our region over the past 20 years, forest trees have been able to store as much as 26 million metric tons more carbon dioxide than before. 
To investigate the longer growing season and its impacts, Harvard professor Andrew Richardson and associate Trevor Keenan used tower-mounted cameras and satellite data to augment over 20 years of tree phenology measurements by HF ecologist John O'Keefe, and long-term eddy-flux tower data by Harvard researcher Bill Munger.
The new findings make a strong case for maintaining forest cover in our region. According to Richardson, "If forests weren't storing additional carbon in this manner, we would be even worse off in terms of atmospheric CO2 levels, so at the moment, it's a good thing."

The research also identifies a critical source of error in existing computer models of how forest ecosystems work. It turns out that these models don't properly reflect how spring and autumn temperatures control the start and end of the growing season. Richardson explains, "This shows an opportunity to improve the models and how they simulate how forests will work under future climate scenarios."