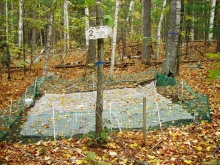 Unraveling the complex functions of the soil ecosystem has been a research focus at the Harvard Forest for over 20 years. Results from our Detritus Input Removal Treatment (DIRT) experiment were highlighted this month by the Soil Science Society of America.
Soils are a globally important reservoir of carbon, containing three times more carbon than the atmosphere. A more nuanced understanding of how soils - and the soil's billions of resident microbes - process change is key to predicting the impacts that climate and other changes will bring in the future.
Major experimental manipulations in the DIRT plots, such as the doubling of leaf litter on the forest floor, did not increase the total amount of carbon and nitrogen available in the soil, but did cause significant shifts in the activities of the soil microbial community.
Photo by David Foster.