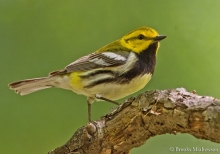 Migratory songbirds, commonly seen in Harvard Forest woodlands in spring and summer, spend their winters thousands of miles south in Central and South America searching for food.
A recent article in Massachusetts Wildlife by Brooks Mathewson, a graduate of HF's Master's in Forest Science program, chronicles the journey of one male Black-throated Green Warbler as he travels from his non-breeding habitat in the forests of Costa Rica to his birth home, an Eastern Hemlock-dominated forest along the Swift River.
The article discusses the many obstacles faced by songbirds during their migration and provides biological insight into their monumental flight. Brooks' photography of migratory warblers is featured in the article.